A Lesson in Cross-Species Friendship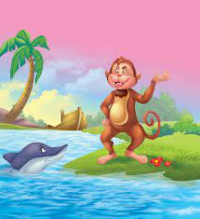 This is the story of a lying monkey and the dolphin. Once there was a big ship which was caught in a storm. The ship was completely damaged. One of the sailors of the ship had a pet monkey with him. Everybody fell into the sea. The pet monkey was sure that he would also be drowne. At the same time a dolphin came to rescue him. The dolphin helped him and dropped him on an island. The dolphin asked him if the monkey knew anything about this Island. The monkey did not know about the island but he told her a lie. The monkey to her, yes I know this Island. Then the monkey started exaggerating and started showing himself in front of her. He said I also know the king of the island. The king of this Island is my best friend. And then he also said to the dolphin that, do you know I am actually a prince? The dolphin was smiling because she knew that no one was living on the island. Then the dolphin asked the monkey, then you must be a king. Now the monkey asked her how can I be a king? The dolphin said yes you can be a king because you are the only one who is alive on this Island. Now the monkey realised that this is going to be very bad for him because he has lied and he was left alone on the island.
Moral of the story
The story of the monkey and dolphin teaches us that lying never gets you anywhere. So we should never tell a lie and should never exaggerate ourselves. We should always be true, otherwise there can be times when our own words will make us fall down. Like in the how the monkey lied to the dolphin and left alone on the island.