Letter tracing worksheets
These are the uppercase letter tracing worksheets pdf for free download where the kids need to color the letter and object beginning with the same mentioned letter in the worksheets. You need to right click on the image and download the worksheets for practicing in the trace letter.
These worksheets have large, dotted letters from A to Z that children can trace over with a pencil or marker. The repetitive action of tracing each letter helps children become familiar with the shape and formation of the letters, which help them to learn how to write. Also, these worksheets provide a structured way for children to engage and practice their hand-eye coordination with pencil grip. While tracing each letter, children can also practice saying the corresponding letter sound which helps them in reinforcing their phonics skills. 
Download the worksheets to trace and color letter A to Z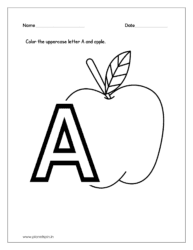 ---