Circle the correct number worksheet
These are Count and circle the correct number worksheet for kindergarten. The given worksheets have different number of objects drawn. For example, there are some images which are event based like christmas items, kids toys, valentine's day items, Patrick's day item where kids need to count them and circle the correct number of items. Children need to count the objects first. Then there are random number written below the objects in the worksheets. You need to identify the correct number and circle it with a pencil. Children can color the objects too.
Who are these worksheets for?
These worksheets are for children ages 3 to 5 who have learned to write numbers or have not learned to recognize. Worksheets with this type of activity are always liked by children and children are always engaged with these worksheets. These worksheets can be downloaded and given to children for practising during free time.
Download the worksheet to count and circle the correct number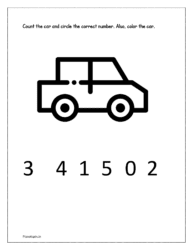 More worksheets to count and circle or color the correct number of objects
Below are few more worksheets having variety of objects like animals, fruits, toys, christmas day items, sea animals etc. Kids need to count the object and color or circle the correct number of items.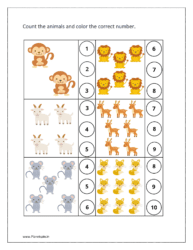 ---