Connect the number dots in sequence to complete the picture in the worksheet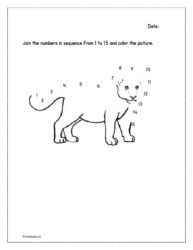 What's in these worksheets?
These are the worksheets with dotted pictures along with the numbers where the children need to connect the number dots in sequence from 1 to 100 and complete the picture.
Who are these worksheets for?
These worksheets are for kindergarten children ages 3 to 6 who are able to identify the numbers 1 to 100 and are able to write them in sequence too. Worksheets with this type of activity are always liked by children and children are always engaged with these worksheets. These worksheets can be downloaded and given to children for practising during free time.
---