Click on below links to browse more pages related to number activity worksheets.
What's in these worksheets?
These are the fill in the missing numbers worksheet related to the numbers for kindergarten kids. These are worksheets with some caterpillars, t-shirts, stars and cakes with some numbers and some empty spaces. Children need to identify the numbers which are missing in the sequence. Fill in the blank spaces with the missing numbers in sequence.
Who are these worksheets for?
These worksheets are for kindergarten children ages 3 to 6 who are able to identify the numbers 1 to 100 and can also write them. Worksheets with this type of activity are always liked by children and children are always engaged with these worksheets. These worksheets can be downloaded and given to children for practising during free time.
Fill in the missing numbers drawn on the objects in the worksheets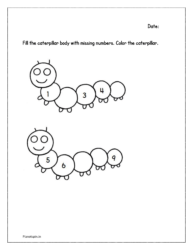 See also: